International Women's Day is all about acknowledging and celebrating women, and the key roles that they play in helping make the world go round. From frontline roles in human rights, politics, science, health-care, education, religion, research, leadership etc, to the more hidden roles that are rarely noted and yet are crucial to a functioning society – as mother, wife, daughter, carer etc; the list goes on.
Here at CRED we want to celebrate and acknowledge some of the incredible and inspirational women that are involved in the programmes and projects run by our CRED Partners.
Over the next few weeks we will do some feature blogs that focus on a number of women all linked to particular Partner organisations, but for the blog to go out on March 8th, which is official International Women's Day, we have chosen one key woman per Partner.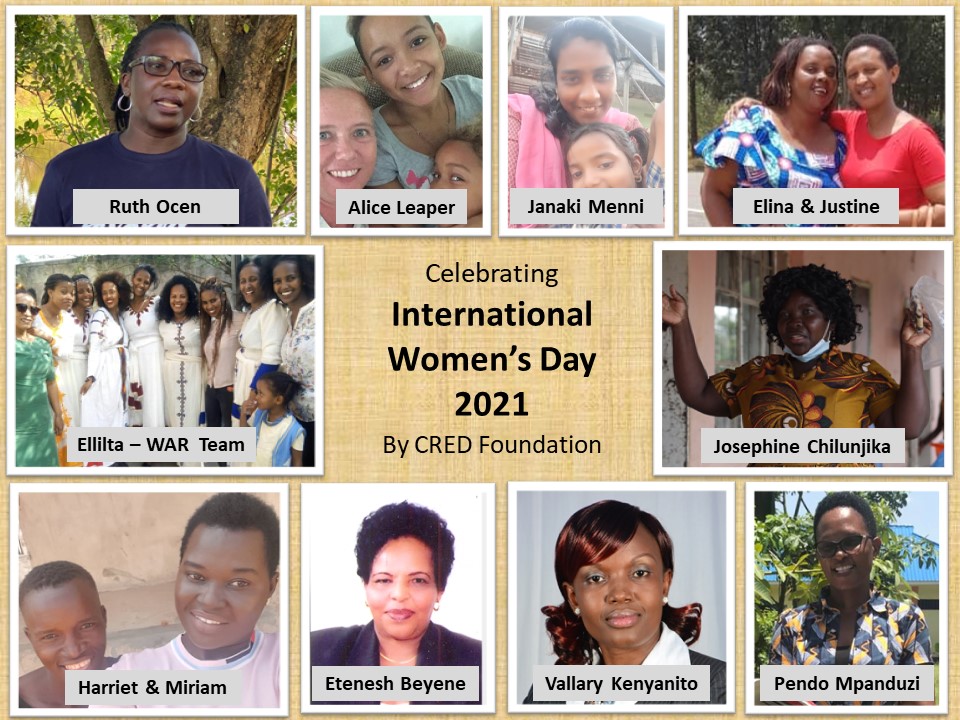 In alphabetical order (to avoid any sort of hierarchical implications) they are:
Alice Leaper – heads up the various community-based projects that are run out of Butterfly Space in and around Nkhata Bay in Malawi. She is also mum to two school-age girls. Alice teaches at a school in Lilongwe during term time but oversees all the BS projects, including Stepping Stones Primary School, Mpamba Disability Support programmes, Beds for Babies, and support for Nursery schools. All of these projects are ones that have been started and developed over the years by Alice and her team of wonderful volunteers.
Ellilta-WAR staff team – this is a bit of a cheat as it's impossible to name just one staff member from Ellilta, which is based in Ethiopia! Pictured are the Ellilta team who oversee all the projects that help women to exit from prostitution. These include providing the much needed counselling and rehab after the women have exited, supporting the children of the women with counselling and other intervention services, and running prevention programmes to encourage teenage girls to realise that they have other options.
Etenesh Beyene – founded and heads up Berhan Lehetsanat, an Ethiopian NGO that supports children living with disabilities to access mainstream education and healthcare. Under Etenesh's leadership, Berhan also advocates on behalf of those living with disabilities and has played a key role in getting accessibility taught as a mainstream module in teacher-training colleges across the country.
Harriet and Miriam – another slight cheat, but there is no way to choose between Harriet and Miriam from the Acholi Quarters in Kampala, Uganda. Harriet acts as informal social worker to the 22 families who make up the Lubanga Ber cooperative that CRED is involved with in a range of ways. Miriam not only acts as Harriet's right hand woman, but also is the teacher at the informal school run for children who can't afford to go to the mainstream schools, and runs adult literacy classes for the co-operative. Definitely a dynamic duo!
Janaki Menni – founded and heads up Faith In Action Ministries (FIAM), which is based in the state of Andhra Pradesh, India. Through Janaki's leadership and vision, FIAM has a range of ministries including church planting, church leader development, outreach into rural villages, a primary school that provides subsidised places for orphans and vulnerable children, support to a community of people living with leprosy and an elderly-care ministry. They also have a goat project which runs as an income generating programme.
Josephine Chilunjika – married to Aaron, and between them they founded and head up the Chisomo Project in Lusaka, Zambia. Over the years this organisation has provided a safe haven for hundreds of street kids who, through no fault of their own have found themselves living on the streets. As well as providing support services for the street kids, Josephine also heads up a programme supporting mothers of children who are vulnerable to running to the streets, providing training in income-generating activities which in turn enable the children to access education and have a better home-life.
Justine & Elina – one more little cheat! Justine and Elina are two of the prison chaplains who work for Good News Peace and Development Rwanda. Both of them spend many hours visiting local prisons where they talk and pray with prisoners, run literacy classes that have a faith element to them, and do a range of other acts of random kindness as the needs and opportunities crop up. Both ladies are also involved in church leadership, and have grown up families.
Pendo Mpanduzi – married to Daniel Mpanduzi who founded The Voice School Trust in Tanzania, and mum to three girls. Pendo is a key player in the running of TVST, and ensuring that it fulfils its remit of making education accessible to all, including girls and those with disabilities. Pendo devised and heads up the community outreach programme with her team of volunteers. This programme takes place every weekend and is open to primary age children who are from marginalised and disadvantaged backgrounds. Whilst at the programme, the children get the chance to do crafts, games, sport, and gain help with their homework. They also get a cooked meal, which for some will be the only meal of their day.
Ruth Ocen – married to Benson Ocen, founder of I Live Again Uganda, and mum to four young children. Over the years, Ruth and Benson have jointly built up ILA, and organisation that was started to provide trauma counselling support to the victims of war in the north of Uganda. Now, through their leadership, ILA is also providing support to refugees that have fled into Uganda from neighbouring countries. As well as being head of HR at ILA, Ruth also owns a boutique handbag shop in Gulu, and through this provides employment to other women.
Vallary Kenyanito – married to Kenyanito Dudi and mum to three children. Kenyanito is co-founder of Spurgeons Childcare in Kibera slum, Nairobi, Kenya, and if ever there was proof that 'behind every successful man there is an incredible woman', then Val is that proof! Whilst Kenyanito might play a more upfront role in the school and community programmes, Val is always there supporting and encouraging him in his work, and providing the stable base from which they can carry out the various community and school initiatives. As well as this, Val is a leader in her own right, playing a key role within the local church, both as a teacher and as leader of the women's ministries which reach out into the community in a range of ways.
So, there you have it – just a few women who between them represent not only incredible and inspirational CRED Partners, but who also are truly wonderful examples of what can happen when selflessness, humility and grace are combined and poured out for the benefit of others.
Watch this space for more examples of the wonderful women of CRED!