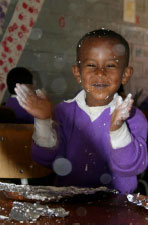 Berhan Lehetsanat means Children of Light in Amharic and it's focus is to create good access to health and education for vulnerable children with a special emphasis on children with disabilities (CwD).
It does this through the provision of community based rehabilitation for CwD's and other vulnerable children as well as providing training and support for teachers and schools so that they know how best to cater for their students. It also resources schools with ramps, handrails and specialized learning materials to suit the disability of the particular students, so as to enhance the learning environment and make education as accessible as possible.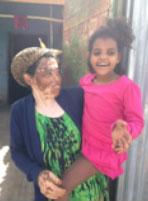 Berhan Lehetsanat does a lot of awareness-raising about disability, and in so doing is reducing stigma and discrimination. It has teams of community volunteers who work with families and communities to enable the best opportunities for CwDs and it also helps access medical support for children who need surgery and / or appliances.
Berhan Lehetsanat is one of CRED's newer partners, and we are looking forward to developing strong relationships with their work. Already we have a Team Trip to the project, and we are keen to help provide resources that will provide further professional development to the staff of BL. If you have qualifications and skills in a profession that could be of benefit to BL staff, please contact us at