Home visit 1 – Toni, Alice, Kelsey, Megan and Miss Barnes
We were struck by the lack of light as we walked in to the tiny house. The lady was very welcoming and invited us to sit on the bed, which was smaller than a normal single bed. When hearing that 7 people lived there, we struggled to visualise where they could possibly fit.
The room resembled a box room and was the only space they had. It was a place to eat, sleep and cook, and had no adjoining rooms. The three children that we met were passionate about education and had very high ambitions (teacher, doctor, lawyer), and school seemed to be the highlight of their day.
The experience has really made us appreciate what we have at home more.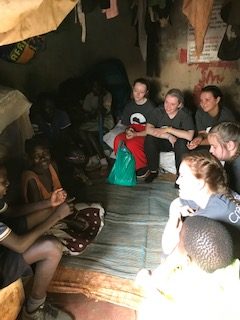 Home visit 2 – Courtney, Lauren H, Joel and Miss Jordan
We met Christine and heard about her life in the Acholi Quarter where she lives with 7 children. She and her family were very welcoming and she was keen to tell us about their experiences. While we expected the house to be small, as we sat talking we were struck by how cramped we felt – for many families in the UK, their bathroom will be larger.
We were very touched that Christine laid out her scarf on the floor for us to sit on. None of the children attend school which it was clear Christine wished to change. She was also ambitious for herself – she would love to run her own business. At the moment, Christine struggles financially – she spoke of the challenges of paying the rent and feeding everyone. She had been ill recently and had to pay for treatment, but it was clear that was not her highest priority.
Our experience of meeting Christine made us all very grateful for what we have in life. It has helped us understand a tiny part of the lives of the children we are working with this week. We also realised how much support we have access to from the government, if it is needed, and while the Acholi community works together to support each other, life is clearly a struggle.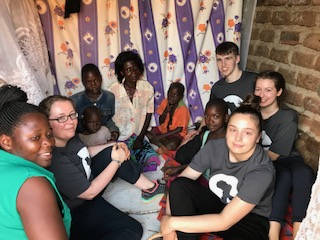 Home visit 3 – Lauren R, Jade, Del and Zac
Being invited into the home of 'jaja' (grandma) Christine gave us an insight into the lives of the Acholi people. Jaja lives with 4 children under the age of ten, 3 of which are her grandchildren, in a house the size of an average bathroom, with all their belongings. Despite how little she had, she was more than willing to open her home and share her story.
The house was just one room, where all the cooking and sleeping took place and made us realise how much we take everything for granted. Jaja insisted on giving us a gift before we left – bowls which she had hand-made with paper and intended to sell for around £1 (a day's worth of money).
The experience as a whole made us realise we have much more than we need.