Today we went to a kindergarten, to refurbish it ready for the children to come back in September. Although it was hot and Danielle was being goofy as always lol we got the job done. It's pretty unbelievable how relaxing applying varnish to wooden seating could be. It was also really pleasing to see the end effect; the playground had really been transformed for the better! The rusty gazebo turned into a colourful and wonderful place for the little ones to hang out and the slides looked so amazing after being refurbished that they were asking to be played on.
During our hard work we also had a quick break and our chef Mark prepared tasty pasta for the team which we ate on the worlds smallest chairs in the nursery.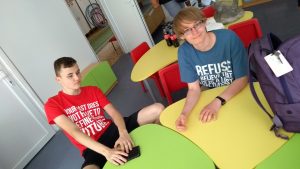 Driving through the town we could really see it was one of the poorest towns. For me it was quite hard as most of the buildings were ruined, it made me think how much we take things for granted.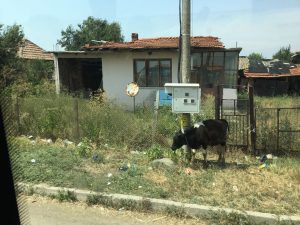 Although, the scenery around was very beautiful and was filled with fields of sunflowers and it looked as if it was a scene taken out of a movie. When we finally arrived at the hotel again, despite everyone's exhaustion, we all proceeded to take showers and clean ourselves off from all the paint that still lingered. Maisie was really helpful and encouraging for those who were slacking. I really enjoyed today as I knew it will benefit the children. Although it rained we all stayed to the job.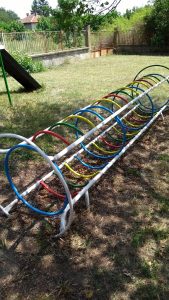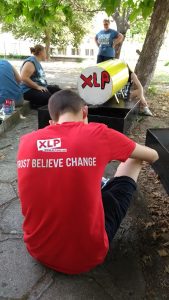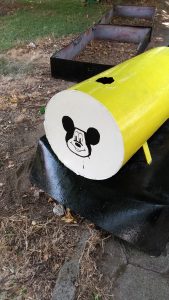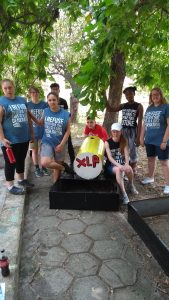 We got very messy but who doesn't get messy when there having fun because I know I certainly don't. Today I learnt a bit of everyone's creative side and it was nice to see how each and every one of us had a different way of painting.
Let us know what you think to our stories. Tomorrow we will be back at the youth centre.
Chenade and Klaudia