From Abbie & Nay:  Today we all found this was the best day so far. Everything all seemed to run smoothly, despite smashing a light and children trying to drink bubble mix! We all seem to have bonded really well with the community and ended up having an impressive dance off to Justin Beiber's classic 'Baby'.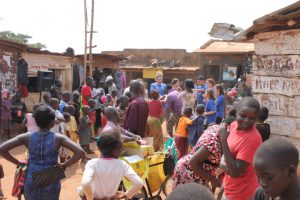 (Photo: the dance off in the street which attracted crowds who all joined in with our dancing – great fun on what was a public holiday here!)
Abbie – Today the other half of the group went on home visits. It was quite shocking to see how they live their everyday lives and how little they have, but also how happy they are. The lady I visited was called Christine and she had 4 children all living with her in a tiny little house. As we left she asked me to pray with her for her money circumstances and that her children could get a good education. Despite not being very confident when praying with people, I felt really good that I was able to support and bless her. If anybody back home would like to pray for her that would be much appreciated.
At first I didn't like the children climbing all over me and trying to pull at my hair, and to be honest I still don't, but I do feel good that they are so happy to play with us and are so comfortable with us.
To all those who were worrying, yes I am eating and drinking plenty! Clarri – are you missing your Bæ? Mum – Have fun! Nancy – get out of your room! Dad – Do I have doors on my wardrobe yet?  #TheBanter
Nay – After initial nerves being introduced to a team of complete strangers, I have grown to realise that each of us offers something unique and wonderful to the children of Uganda as well as holding together an incredibly strong support network for one another.
Visiting the houses of those living in the community was not only a very sobering experience but also one to learn from: unlike the techno-zombie children of England, Ugandan children spend the majority of their lives in the freedom of the outdoors despite their enslaving situation of poverty.
Even though the children cling to you from all directions, forming a human climbing frame, the pure joy on their faces after being congratulated melts my heart. If they can love me as a sweaty, sandy mess then surely just our presence will make all the difference in the world.
Su- Shaun and I want to thank you so very much for all your support! Sion and Dave- Love you guys, I hope the uni celebrations are going well <3 Mom and Dad- Thanks for the squidgy kisses, a little embarrassing but I'll take them J
Thank you for everyone's support so far, keep the comments coming they make for great entertainment in the evenings!
PS Tracey Twinberrow: Innocent has changed so much, he shook hands with us today instead of high-fiving!
Love Abbie and Nay xx