The following story was sent to us via Berhan Lehetsanat, a CRED Partner based in Addis Ababa in Ethiopia. Berhan's focus is providing a range of support and advocacy for children who have disabilities and additional needs. The name of the child has been changed to protect her identity. Permission has been granted to use the photo of mother and child in this blog.
Aberash* is a two year girl.  She was born as second daughter of her parents in Addis Ababa. According to her mother Tigist, she had a normal delivery in a hospital and when she was born, the child looked physically normal. However, her mother began to notice that her daughter was not showing progress and so she took her to a health center for medical checkup. The Medical exam result was heartbreaking for the mother as it showed that her daughter has problem of developmental delay probably caused by a drug that the mother had been prescribed for thyroid problems during pregnancy.
The mother then faced the difficult decision of what to do. She is a housewife, and her husband is a daily labourer, so they have very limited income, and certainly couldn't afford the care and medication being suggested by the doctors. Thankfully, a friend of the mother had heard about Berhan Lehetsanat, which was operating in a nearby part of Addis. Tigist took Aberash to the Berhan programme, and she was registered for support witb BL in August, 2020.
Following an assessment, the BL team prepared an action plan and then Aberash started receiving physiotherapy service whilst her mother was given training on how to help Aberash continue her exercises and rehab at home.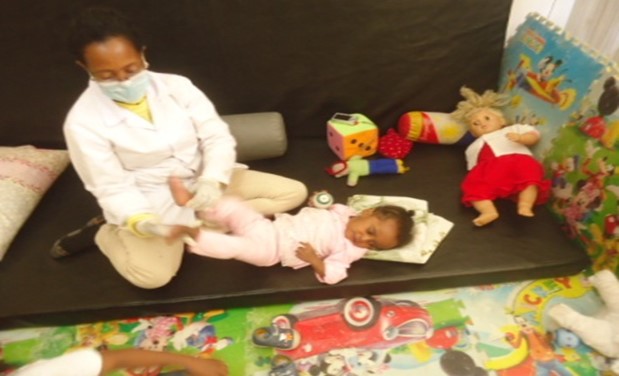 Over the last six months, Aberash has made great progress. She is now able to sit up, and she has started speaking words like 'baba", "imma" "na-come" and so forth.  Both Aberash's Mother and the BL team are sure that within a short period of time, Aberash will even be able to walk. Tigist thanks BL and all those who supported her daughter and gave her such excellent care and support.  Tigist says that she feels very lucky for having received support from BL. 
The BL Child Based Rehab team is closely following Aberash and her mother on a regular basis, both to ensure that Aberash continues to develop, and also as the mother may become a candidate for receiving a BL start-up fund for help with developing a small scale business, depending on her interest and willingness.