Merry was brought to the Chisomo Shelter by Lusaka Social Workers who found her living on the streets, where she was living a very vulnerable and precarious existence. No-one knows her exact age but the staff at Chisomo reckon she must be between 13 and 15 years.
Aaron, from Chisomo says: 'We do not have information about Merry's background and origin. At the time of her coming we noticed that she is a child with special needs, as she cannot speak and is unable to use her hands effectively. She cannot brush her teeth or wash her face, but she does hear OK and she responds without any problem.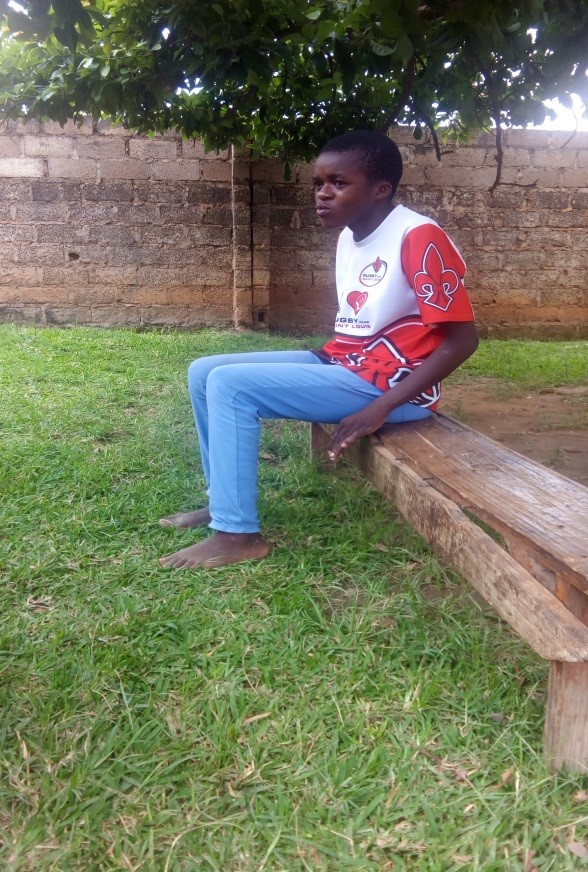 Mercy Zulu
The information we on Mercy is very little, this is due to her inability to speak. Mercy was picked up by member of the public who found her wandering beside a river on the northwest part of Lusaka. The Good Samaritan ie member of public who found her, took her to the local Police Station, and they brought her to us'.
A few months after Merry had been brought to Chisomo, they got her a place at a 'Special Needs' School in southern Zambia. Unfortunately, she only lasted there three terms, as Merry developed the habit of wandering off from school, and the staff feared for her safety. They said that it was difficult on their part to ensure her safety as the school has neither a wire nor wall fence. Merry was brought back to the Shelter and has not been put in school since then as there are no other suitable schools in Zambia for her to attend.
What Merry really needs is an extensive Medical Assessment to ascertain her condition, capabilities and options for future education and life opportunities. With this knowledge the staff at the Shelter would have the correct information to be able to properly support Merry.
However, access to such assessments in Zambia is very costly, and has long waiting lists, as the facilities are so few. So, in the meantime, Merry continues to live at Chisomo, but with little knowledge about what her future might look like.