Solar phone charging – a good news story from Acholi
Over the past few years I have had the privilege of visiting with, and supporting, the Lubanga Ber group in Acholi Quarters, and seeing them grow from a disparate, surviving, not very hope-filled group to the empowered, visionary, cohesive group that they are today.
The involvement of CRED teams in coming and running activity weeks for the children, the wider impact of teams buying beads and paper goods made by the ladies, the continued support from individuals when they return to UK, and the increased awareness of the plight of this previously unheard of group – all these facets have resulted in the Lubanga Ber members believing in themselves, having a sense of self-worth, and feeling part of a wider community than just the square mile or so in which they live day to day.
Until last week, their group would have listed the Hopeful Haven children's education as one activity that they run, with adult literacy classes and a savings group as the other two, plus of course their beads, bowls and other paper products as the underlying money spinner (albeit on a very ad hoc basis).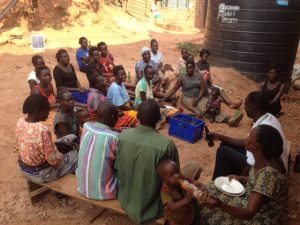 One thing they are keen to do is have some sort of microfinance scheme, so that individuals can take out small loans to help start new income generating activities, or develop further ones that are already in action.
But their challenge has been where to get the money for the 'loan pot' so that they can get started. The savings scheme doesn't generate enough money for it, as the members struggle to have anything spare to put in it. What they need is something that will generate some income for the group, at a steady rate, that can in itself turn into the 'loan pot'.
Enter the multi-port solar phone charger!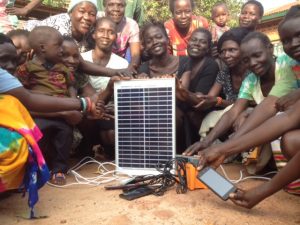 I had the joy of introducing the group to the concept of this idea earlier in the week, and taking along an example piece of kit that, if they can work out how to run it as a successful business, could make them a steady stream of income.
It was with great interest that they learned how the solar charger works and how to connect the phones to the charger. As they watched their phones charging, you could see their minds whirring with thoughts on how to use the equipment in such a way that they can protect against phones being stolen whilst on charge, how many phones could be charged per day, what profit they could make……
Unfortunately I wasn't able to leave the equipment with them as it was actually en route to another project, but it certainly provided them with food for thought, and as I left the group were discussing a number of ideas on how best to utilize it – for phone charging, but also for add on ideas to get even more benefit from it.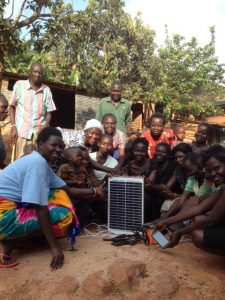 It was lovely to be part of the process, and to see the group members taking a further step into the world of having hope for the future, and knowledge that they aren't on their own in their personal fight against poverty.