In the morning at 6am, a few of us went down to the lake to have a morning sunrise swim. Izzie, Phoebe, Sophia, Anna, Abi and Goooooldieeeeeeeeee went diving in the clear blue lake. The morning was really clear and so we could see the outline of Mozambique. Once we had gathered we began the long walk to bwelero school. We were greeted by the children as we reached the school.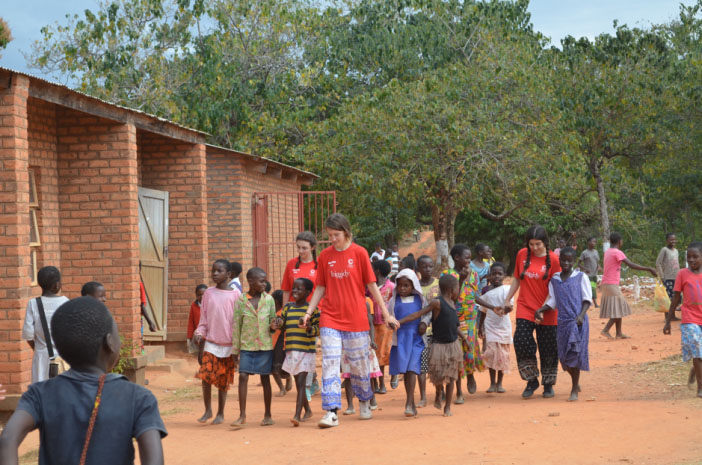 After sorting our resources we all ran, hand in hand, to class. Greeted by a huge cheer the lessons started off straight away. Our lesson, (Sophia, Phoebe, Charlotte and Miriam) concentrated on greetings. Chanting "good morning" and "nice to meet you", all the children enjoyed the learning as much as we did teaching. Using different teaching skills we had adopted over the week so far we threw balls around, used songs and dances and every child left the class being able to greet people in English as if they had been speaking it their whole lives. We were all uber impressed.
Following a quick rummage in the resources room, we all headed our again to teach our second, longer classes. Teaching standard five, we started off with a maths lesson on ratio from Charlotte. Despite the language barrier Charlotte managed to convey the tricky subject and all the children were soon shouting answers happily. For the second half of the lesson, I, Phoebe, taught a 'Parts of the Flower' lesson. Using a combination of singing, chanting and fun worksheets every child left the lesson very ratio and parts of the flower savvy.
For lunch we were delighted by a delicious home cooked dinner by the school chefs of soya and rice. Then we were ready to set off for our afternoon home visits. Each group of six were given the opportunity to visit the home of one of their student's classes.
Our group visited the home of a young standard 2 boy, Leonard. Following him home we learnt how long his daily journey to school is and after a conversation with his mum and four other siblings we learnt how difficult his life and things that we take for granted were.