Welcome to the world of plastic bottle upcycling, as spearheaded by CRED Partner PSD-Nepal. Based in some of the main trekking areas of Nepal, the volume of waste plastic, tin and glass bottles produced by the tourist industry is ruining the environment at an alarming rate, and PSD have decided to do something positive about it. Here follows a report put together by PSD about this exciting project. If you would like to get involved at a personal, corporate or organisational level, then please email helen.harrison@cred.org.uk to discuss further.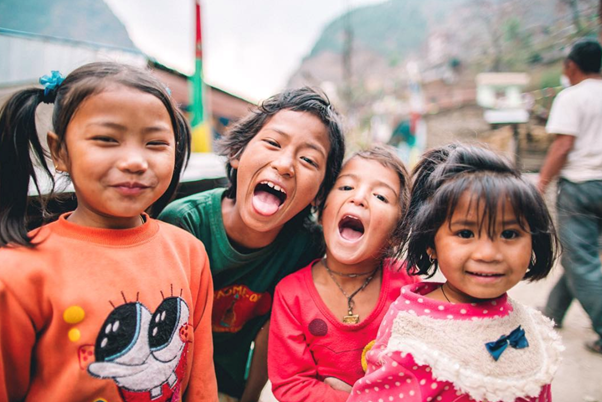 Vision: cultivating circular economies in the Himalayan National Parks of Nepal
Mission: recycling PET plastic bottles from National Parks & promoting creative up-cycling
Goal: promoting viable job creation, environmental wellbeing & sustainable local management
Pilot Site: Langtang Valley
Langtang Valley was severely hit by the 7.8 magnitude earthquake of April 2015 in Nepal. Sadly, almost 400 villagers and tourists lost their lives in a devastating landslide and stone avalanche triggered by the earthquake. PSD Nepal has been working with a local board of elders – through KGLS (Kyangen Gompa Langtang Society) – to help in the long-term resilience and rebuilding of livelihoods of the valley.
With the vision of creating both viable job creation and environmental health, PSD Nepal has launched an incentive scheme to support PET bottle recycling with the hope of closing the loop on PET waste and creating a circular economy. Currently, 40,000 PET bottles are collected monthly in the Langtang Valley and shipped to HLP Pokhara for recycling. An incentive scheme of 1x PET bottle = 1 Nepalese rupee (npr) is in place in Rasuwa district.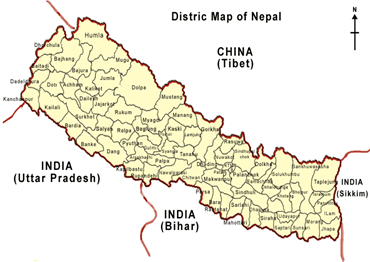 Pilot Project location
Langtang Valley hosts 18,000 trekkers per year, housed in 101 trekking lodges from Syabru Besi to Langtang and Kyangjin Gompa. With this number of trekkers, and approximately 20-25 bottles consumed in the high seasons (6 months per year) per lodge, up to 200,000 plastic bottles are consumed and discarded in the valley, per year (5T waste). Historic treks account for further PET waste in the National Park, all of which can be recycled to extract value.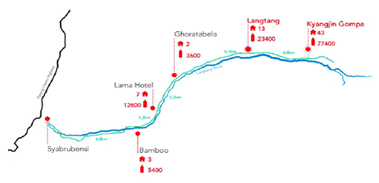 Tourist statistics
Annual tourist figures for Langtang National Park and Langtang Valley specifically have been greatly affected by the 2015 mega-earthquake in Nepal. These figures are as follows;
| | | |
| --- | --- | --- |
| Year | Visitors per year | Revenue |
| Hist. – 2015 | 15,000 | $432,000 USD |
| 2016 | 8,000 | $230,000 USD |
| 2017 | 12,000 | $346,000 USD |
| 2018 | 16,000 | $461,000 USD |
| 2019 | 18,000 | $520,000 USD |
Lodge statistics
During a consultation period in October and November 2017, plastic waste and PET bottle estimations were facilitated for the totality of the Langtang Valley. These figures are noted below.
| | | | |
| --- | --- | --- | --- |
| Location | Lodges | Plastic est. waste | PET Totals |
| Bamboo | 3 | 5x PET bottles / day in high season (6M) | 2,745 bottles |
| Lama Hotel | 7 | 10x PET bottles / day in high season (6M) | 12,810 bottles |
| Langtang | 13 | 13x PET bottles / day in high season (6M) | 30,927 bottles |
| Kyangjin Gompa | 43 | 14x PET bottles / day in high season (6M) | 110,166 bottles |
Annual waste in Langtang Valley
Alongside plastic PET waste in the Langtang Valley (in excess of 5T per year), with a total of est. 5MM bottles in the valley from historic treks (125 tonnes of historic waste), there is also glass & tin waste;
| | | | |
| --- | --- | --- | --- |
| Location | Total T/yr | Main dumping sites | Bottle Totals |
| Plastic PET | 5 T | Trekking lodges (+ collection PET scheme) | c.200,000 bottles |
| Glass (beer) | 35 T | Trekking lodges (+ no collection yet) | c.80,000 bottles |
| Tin (can drinks) | 3 T | Dump pits & river (+ no collection yet) | c.180,000 cans |

3.1 Environmental resource sites
The first environmental resource site, constructed with a PET plastic pavilion at the centre, was erected in the autumn of 2019 by the PSD Nepal team, at the base of the Langtang valley, in the Langtang National Park. Comprising of 2,447 PET bottles, the PET pavilion now hosts over 40 international trekkers per day. The second has now also been completed, as of October 2020.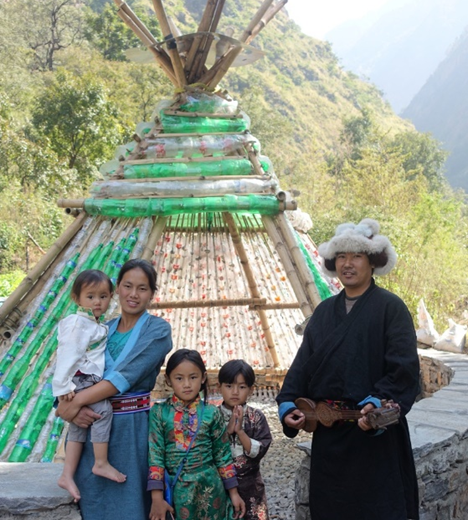 Located in Tiwari Gaun and Bamboo, respectively, on the popular and most common trekking route in Langtang, the purpose of the PET plastic pavilions is to serve two main functions:
Education and awareness – school children and designated field trips come to visit the PET plastic pavilion and learn about up-cycling and the environment, as well as international trekkers who pass by here on a daily basis, to learn about PSD Nepal
Collection and segregation – the PET plastic pavilion also serves as a site for the collection, segregation, and sorting of PET plastic waste by PSD Nepal staff – from the flows of plastic descending from Langtang Valley as well as Gosainkunda Lake
Provisional costs for one environmental resource site is £950 GBP
Upcycling, also known as creative reuse, is the process of transforming by-products, waste materials, useless, or unwanted products into new materials or products of better quality or for better environmental value. Upcycling is the opposite of downcycling, which is the other half of the recycling process.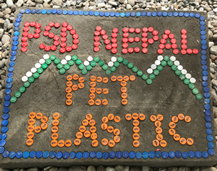 Plastic bottles are made of PET (polyethylene terephthalate). Global bottle production accounts for 30% of global PET demand. The majority of other PET production is for polymer fibres and textiles. PET consists of polymerized units of the monomer ethylene terephthalate, with repeating (C10H8O4) units, and can be (relatively) easily recycled. The number 1 in the triangle on the base of packets denotes the recycling resin identification code (RIC).
Creative re-use of plastic falls mostly in two categories – recycling and upcycling. Whilst recycling is well-known, it is still part of the 'downcycling' loop whereby value is leached, and quality slowly worsens over time. Nonetheless, recycling is critical – alongside reduction, recovery and re-education – in tackling the challenges of plastic pollution. Upcycling – a lesser known term – is the creative reuse of waste products into higher quality or newly desired materials or products. These injects value into the supply chain through cultural and/or environmental value.
The resource revolution leverages the gains of such creative re-use – on both the recycling and upcycling fronts – and educates consumers and producers alike of the lifespan, longevity, and product malleability of different materials. Resource optimisation, substitution, and virtualisation are critical to the efficiency gains of the resource revolution. In the next 10 years, 3 billion consumers will be added to the global middle class. $10 trillion USD investment is needed to match this and meet future resource demands, by the year 2030.
Key fact:  Plastic stays in the environment for min. 450 years, 6x longer than the av. Nepali life
4.1 PSD Nepal vision and values
Objectives and outcomes
Objectives: to achieve the vision of both PSD Nepal & CRED Foundation by transforming lives in the Himalaya, and contributing to the journey towards justice & equality
Outcomes: new sites for schooling and education, environmental gains and awareness, growth in local responsibility, new PET plastic initiatives, local jobs & livelihoods
Working with sensitive groups, including women's co-operatives and school students in local districts, is essential to empowering rural communities and achieving long term social viability, as well as sustainability, on such a project. This is a strategic point of engagement for PSD Nepal.
Live Media: PSD Nepal is active on social media, sharing activity from LNP, on these social media platforms;
www.psdnepal.org                                       www.facebook.com/psdnepalktm/     www.twitter.com/psd_nepal/             www.instragram.com/psdplastics/     
You can watch our short documentary 'A Plastic Story' here: https://youtu.be/kktRh1YIbzs
A short story on respect, pride, responsibility
The Tibetan-Tamang people groups inhabiting both the Himalayan Valleys of Northern Nepal and also Northern India, are an endangered culture. With significant rural-urban migration toward big cities, the economic opportunities that tourism affords, and the increasing pressure on local habitat & resources, pressure is mounting on a culture with centuries of rich history. This partnership is co-created both to preserve the wellbeing and longevity of a historic heritage culture, & also promote respect & responsibility in a changing world, for a fragile environment.
Respect – simply the honour due towards something that is valued – is marred in a terrain littered by plastic, waste, & tourist trash. These threaten both the natural assets of this spectacular valley and the very foundations of a thriving eco-tourist economy based on trekking.
Likewise, pride – the satisfaction derived from qualities that are widely admired – should be reflected in a clean and well-maintained national park, boasting great Himalayan wonders and rich natural resources in tumbling rivers, diverse jungle, and precious forests. These are assets.
Finally, responsibility – of being accountable – is in the very nature of the federal republic of Nepal, as a landlocked country nicknamed the 'Himalayan kingdom'. Home to the longest chain of Himalayan mountains of all Asian countries, Nepal has the responsibility for these natural wonders. With great responsibility comes difficult decisions. The longevity, sustainability, and ecology of these breath-taking mountains need to be considered ahead of simply the economic gains of tourism.
The Canadian naturalist, Robert Bateman (2000), encourages us to all 'Think like a Mountain' – with a sense of permanence, patience, adaptability and nobility. He reminds us that permanence pays dividends. The long view never disappoints.