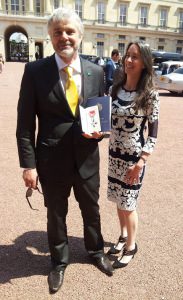 Last Thursday, our founder received his MBE from HRH Prince Charles, in recognition of his work in Fairtrade Gold and with gold mining communities in South America and Africa.  Congratulations, Greg Valerio MBE!
You can read more about the day on Greg's blog: Stranger than Fiction – Larger than Life
However, the story doesn't end here, as we continue to work with Greg and other partners in the Artisanal and Small-Scale Mining (ASM) Sector, to make the artisan miner's dream of providing ecological gold a reality.
Using mercury in gold extraction is cheap, convenient but utterly toxic to people and the environment.  However, processing gold without the use of mercury, along with meeting all the other Fairtrade criteria as set out in the gold standard leads to qualification as an ecological Fairtrade source.   And this is possible with a low-cost technological solution called APT's 'Gold Kacha' machine, a gravity concentrator using centrifugal force for extraction. This, combined with two Masta's, a Konka and a Smelter enables gold to be extracted mercury-free, and at much higher quantities than previously.  If you'd like to know more and are interested in supporting this great initiative you can find out more here: Fairtrade Mercury Free Gold