Welcome to the fourth blog in our mini-series on climate change, where different CRED Partners share their thoughts on how climate change is impacting their country and their work. This week we hear from John Njendahayo in Uganda.
Uganda is experiencing significant impacts of climate change, which include changing weather patterns, drop in water levels, and increased frequency of extreme weather events like floods, as well as drought, whose social economic impacts make communities very vulnerable.
Major environmental problems in Uganda include overgrazing, deforestation, and primitive agricultural methods, all of which lead to soil erosion. Attempts at controlling the propagation of tsetse flies have involved the use of hazardous chemicals.
Despite the fact that Uganda has a number of laws and policies geared toward conserving the environment, natural resources—in particular water catchments— continue to be encroached upon. The rate at which water catchment areas are being depleted is growing at an exceedingly high speed, and, as a result, the majority of rivers, swamps, wetlands, and other catchment areas have either already been depleted or encroached upon. For Uganda, environmental conservation is no longer just a matter of scenic beauty but a question of economic survival
Based on estimates, degradation costs represent an environmental debt of about US$ 1–4 billion today. Although the country's water resources are rich, severe water scarcity is predicted for the near future, particularly in more populated areas and in the more fragile arid and semiarid pastoral areas. The Ugandan government has formulated a number of policies to regulate land use and impacts on the environment. However, the alarming rate at which natural resources are being depleted shows that these laws and policies are not enforced effectively.
It has been indicated that Uganda is likely to continue as a natural resource based economy in the foreseeable future. And therefore, the state of the country's environment will remain a major determinant of national development and the well being of Ugandan citizens, the East African Region and the world at large.
So what are some of the solutions to all this? It is time to stop focusing too much on Governments to solve problems and start acting at whatever level possible. I think the biggest challenge is availing people with useful information. People need to make sense of how their actions are impacting on the environment before they can take action. This means that Education is going to be key.
At Nkuru-Nziza Foundation, we are trying our best but in a small way, to educate young people on the importance of taking a good care of what God has created for us (being good stewards of God's creation). Some of the practical things needed to protect the environment are demonstrated at our college and in various communities for example; use of Solar energy (each of our college buildings has solar panels on top) use of Biogas to help with cooking food (reduces the need to cut down trees for charcoal) rainwater harvesting to conserve water, use of ISSB technology for construction (which reduces the need for firewood to bake bricks)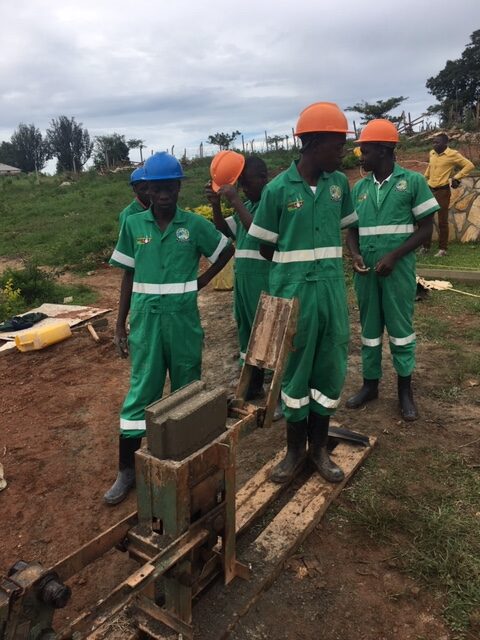 It is hard to do all that is needed at once but we are learning as we go along!
The internet is a powerful tool if used wisely! We recently discovered a list of 10 things( to help with our action plan) that we can do to help with climate change! These will also help us measure success or lack of it! Please share on them below and see how far you have gone to help in the struggle! Please give yourselves marks on each!
Urge government to take bold, ambitious climate action now
Uganda must act with urgency and ambition.  We now have a climate plan and accountability legislation, but neither is strong enough to meet our goals.
Use energy wisely — and save money too!
By becoming more energy-efficient, you not only pollute less but save money too.
Get charged up with renewables
The global push for cleaner, healthier energy is on. With costs dropping every day, renewable energy is the best choice for the environment and the economy.
Eat for a climate-stable planet
The decisions we make about food can have a profound effect on the environment. Here are four simple ways you can make your diet more climate-friendly.
Eat more meat-free meals
Buy organic and local whenever possible
Don't waste food
Grow your own
Start a climate conversation
Solving climate change requires us all to work together. We can't do that without finding common ground with those who may not share our perspective
Green your commute
The many ways to reduce your transportation emissions will also make you healthier, happier and save you a few bucks. Whenever and wherever you can:
Consume less, waste less, enjoy life more
"We use too much, too much of it is toxic and we don't share it very well. But that's not the way things have to be. Together, we can build a society based on better not more, sharing not selfishness, community not division."
Invest in renewables and divest from fossil fuels
Even if you can't install solar panels or a wind turbine, you can still be a part of the clean-energy economy. Search online for local renewable energy co-ops to join. As a member, you'll own part of the co-op's renewable energy projects and will receive a return on your investment. You can also speak to your financial adviser about clean energy/technology investments.
Mobilize for local climate action
"What our cities do individually and in unison to address climate change can set the agenda for communities and governments everywhere."
Get politically active and vote
Although it's important to take action to reduce our individual carbon footprints, we also need to focus on changing the larger system. That's where we have the greatest opportunity to reduce emissions.