A partnership between CRED Foundation and a number of in-country NGO's linked to the ASM sector. One of these partners is EWAD, Uganda.
The Need: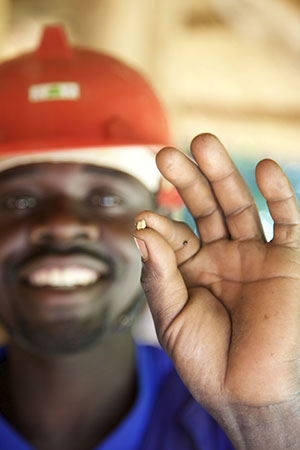 Using mercury in gold extraction is cheap, convenient but utterly toxic to people and the environment. As a result, the United Nations ratified the Minimata Convention in October 2013, requiring governments to eradicate the use of mercury in the mining sector.
Addressing this issue within the Artisanal and Small-Scale Mining (ASM) Sector is very challenging. Given the informal, unregulated and often illegal framework in which many ASM workers operate, the use of mercury is especially prolific and particularly damaging.
Given the acute lack of capacity that such miners experience (financial and otherwise), the measures required to meet this legislation will not be taken voluntarily, risking not just further marginalisation of workers, but also of driving mercury use underground.
Engaging the ASM sector, and building capacity is vital or the negative impact of mercury use on livelihoods, health and the environment will only be exacerbated.
The Solution:
Processing gold without the use of mercury, along with meeting all the other Fairtrade criteria as set out in the gold standard leads to qualification as an ecological Fairtrade source. This benefits human health and the environment, and also means that miners receive a fair price for their gold, as well as a community premium payment allowing investment into the development priorities that the local communities identify.
Ecological gold is the best gold an artisan miner could possibly dream of.
The Fair Trade process has now been successfully trialled and implemented within the ASM sector in Tanzania, Kenya and Uganda. Trials were in line with fair-trade criteria and provide robust models and infrastructure to support active engagement of the ASM sector whilst guaranteeing social and environmental standards.
There is significant opportunity for growth.
Moreover, a low-cost technological solution for mercury eradication in ASM has already been produced: APT's 'Gold Kacha' machine, a gravity concentrator using centrifugal force for extraction. This, combined with two Masta's, a Konka and a Smelter enables gold to be extracted mercury-free, and at much higher quantities than previously.
A golden opportunity is at hand.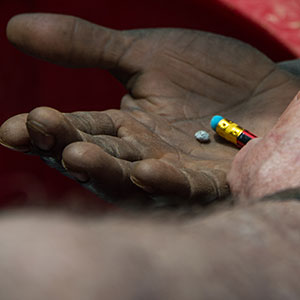 Using partnerships between CRED Foundation, local in-country organisations linked to ASM co-operatives, and APT's locally-produced low-cost technological solution, this project will:
Guarantee a safer and healthier environment for miners and their communities in Africa
Improve livelihoods and living standards
Build capacity, efficiency and production quality for ASM cooperatives
Scale up production for an increasing supply of Fairtrade Ecological Gold
What can you do?
£4,500 will buy one Gold Kacha machine for an ASM cooperative in East Africa
£1,700 will buy both the of Masta machines (sluices)
£1,800 will buy the Konka machine (extractor)
£2,000 will buy the Smelter machine (smelts!)
£20,000 will pay for all the installation of equipment, plus education and training of community members in how to use and maintain the equipment, as well as project oversight and monitoring.
This is a prime opportunity for fair-trade campaigners and the jewellery industry to demonstrate a commitment to sustainability and ethical impact, and to invest in a low-cost high-impact initiative that will deliver measurable social and environmental benefits.
We invite contributions, donations and sponsorship packages, and look forward to pioneering together with you. To discuss how you can be further involved, or for more specific information on sponsorship packages please contact CRED's Operations Manager .
If you wish to make a donation towards this project use one of the following links:
For corporate donations:

For donations from individuals:

Be sure to select "Fair Trade Mercury-Free Gold" in the Campaign/Appeal drop-down menu on the next page.